Chakri Samosa Chaat-Pinwheel Samosa Chaat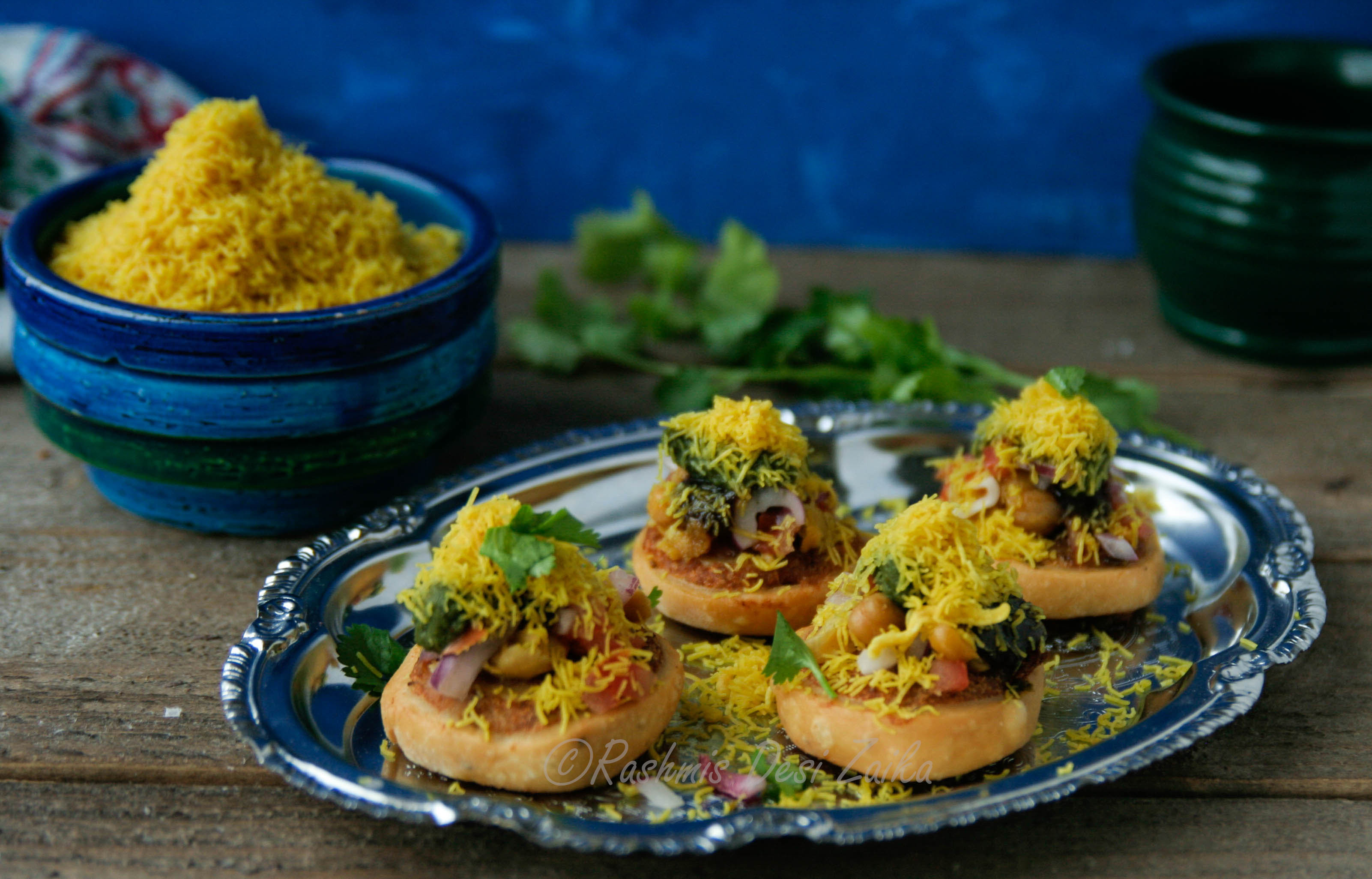 Well,  may be you are familiar with popular Indian snack, samosas. The traditional ones are fried snacks filled with savory filling and are distinctly triangular shaped. The filling could include spiced potatoes, onions, peas, lentils or minced meat.
I heard the name pinwheel samosas for the first time, actually not that long ago, from a friend and I was like what pinwheel..what? After that I did some research and of course tried making it them at home. There were flaws in first attempts but now they taste awesome, even better than traditional samosas. Don't get me wrong, I do like the traditional ones but in my opinion the problem there is that there are only two textures-pastry and filling; and you eat either one at a time. With the chakri samosa, you get alternate textures and I just loved it. Also making the traditional samosas could be a bit technical thing to do and might be difficult, whereas the chakri samosas are quite easy to make…no wonder they are becoming quite popular in India.
The recipe here is of chakri samosas, which could be enjoyed plain or with coriander-mint chutneys. Last weekend, we had some friends over our place for food and for them I made chakri samosa chaat. I mentioned more about chaat in one of earlier posts of 'besan katori chaat'. Here, I topped the chakri samosas with spiced chick peas, finely chopped onions and tomatoes and two kinds of chutneys.
Here is the recipe…
Ingredients:
For dough
160g all-purpose flour
30g vegetable oil
½ tsp caraway seeds
½ tsp salt (according to taste)
For filling
400g floury potatoes, steamed and peeled
1 tsp red chili powder
1 tsp coriander powder
1 tsp amchur
½  tsp cumin powder
½ tsp garam masala
2 tbsp fresh coriander, finely chopped
For topping
50gm boiled chick pea (canned ones can be used)
½ tsp cumin powder
½ tsp black salt
½ tsp red chili powder
1 tbsp oil
1 small onion, finely chopped
1 small tomato (without seeds), finely chopped
50 ml coriander-mint chutney
50 ml tamarind chutney
3-4 tbsp sev
1 tbsp fresh coriander, finely chopped
Method:
For making dough
Mix flour, caraway seeds and salt together into a bowl. Add in the oil and combine it together by running your fingers through the mixture. It should form crumbles.
Now add water, little at a time (50-60 ml) to combine the flour together. The dough should be soft and non-sticky. Cover the dough with kitchen towel and let it rest for 20-30 minutes.
For filling
Gently mash in the potatoes and add all the spices. Mix everything together. Finally mix in fresh coriander.
Heat 1 tbsp of oil on medium heat in a pan. Add cumin powder and chili powder and stir it quickly. Now add in the cooked chick peas together with black salt. Cook for couple of minutes and take it off the heat. Set it aside.
For making samosas
On a wooden board roll out the dough into thin oblong shape. Take the filling and spread it evenly on the rolled dough, leaving around 1 cm space around the corners. Gently press it down.
To make the samosa roll the dough topped with filling, starting from one corner, into a tight and firm log shape. Apply some water at the loose edge and seal well. Roll it few times on the board to make it nice and firm.
Using a sharp knife cut out the edges where there is no filling. Cut out 1 cm pieces from the remaining roll. Keep them aside.
Place each piece between palms of you hand and gently press it
To fry the samosas, heat enough oil in a wide vessel. The oil should be hot but not too hot.
Keeping heat at medium to high slowly drop 4-5 samosas into the oil. Turn them around few times to cook them on both sides. They should be golden brown in color. Remove from the oil and drain them on paper towels.
To serve, top the chakri samosa with cooked chick peas, finely chopped onion and tomatoes followed by two chutneys. Finally sprinkle some of the crunchy sev and garnish with fresh coriander. Enjoy!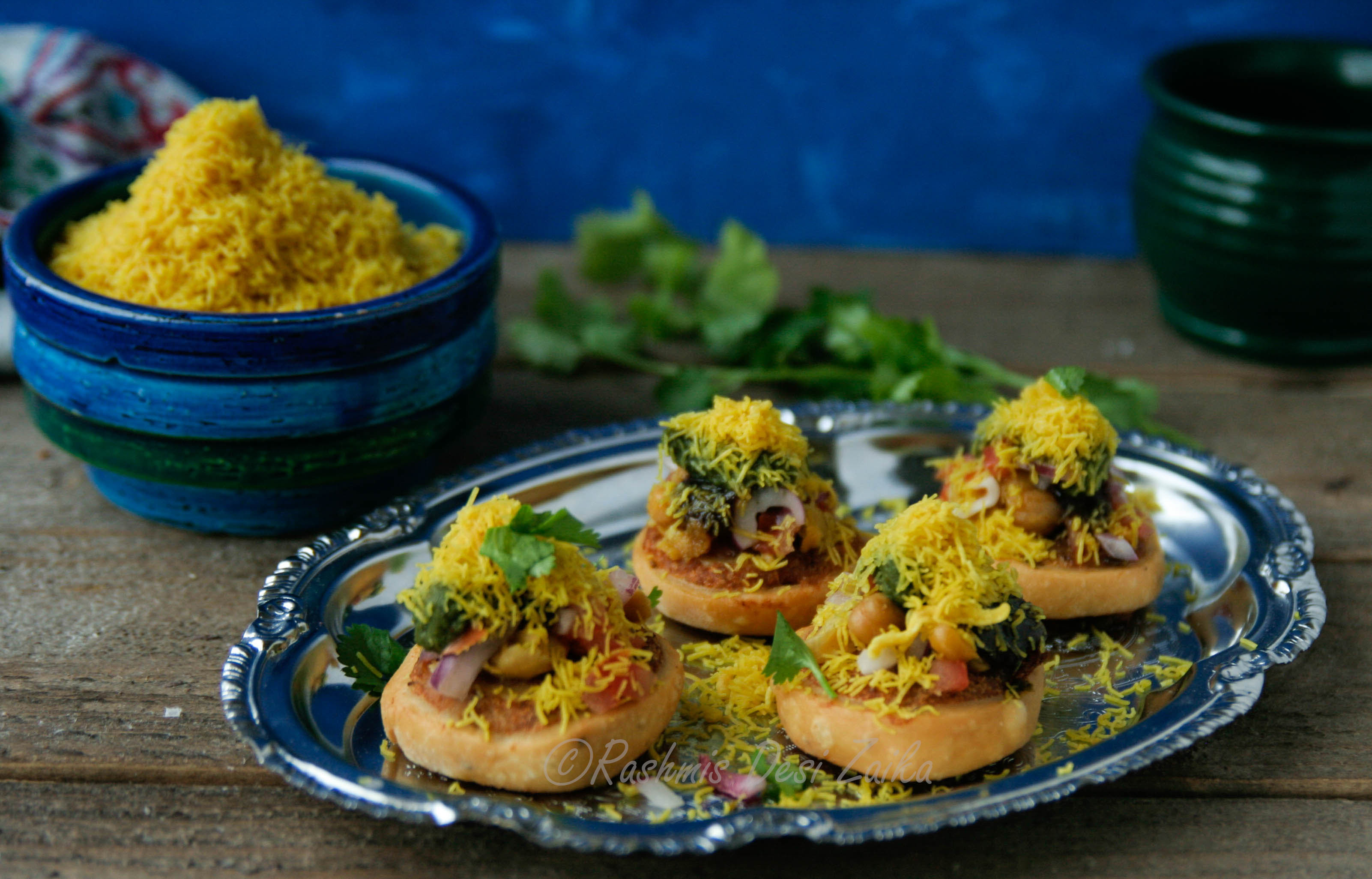 Preparation Time: 45 minutes
Cooking Time: 30 minutes
Makes: 18-20
---
---